Rent condo in Pattaya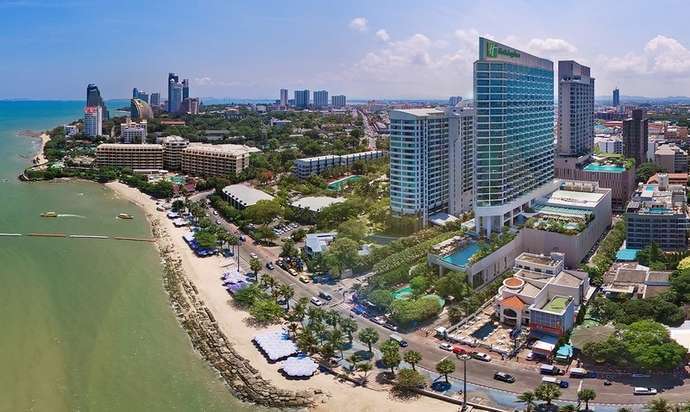 Pattaya is one of the most of the popular resort cities in Thailand and tourist destinations in South-East Asia.
Nightlife boils here every day, which made Pattaya worldwide famous, but at the same time, this is a great place for the family holiday too.
Here you will find a large number of national parks located within just an hour's drive from the downtown, and beach leisure lovers will be able to enjoy the crystal waters on the islands of Koh Lan and Samet.
So if you decide to stay in Thailand, remember that Pattaya is an excellent choice for any rental term: a week, a year, a month. It is very convenient to rent property here.

Each Pattaya district offers large selection of property for rent for any preference and budget: villages with luxury pool villas are neighboring with budget condominiums, where you still can comfortably spend your holiday;
high-rise condominiums with panoramic sea views and luxurious condo interiors are located next to large resort type projects, with the facilities, not every hotel can boast. Renting a condo in Pattaya for a month is a great option for the holiday accommodation.
Rent condo in Jomtien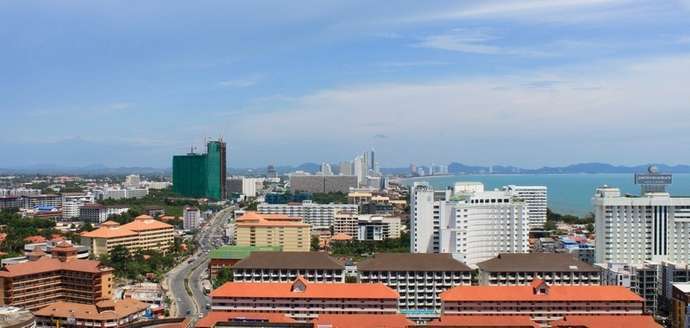 Jomtien is the district in the southern part of Pattaya, featuring a 4.5 km long beach strip.
Conventionally, the district can be divided into two parts: the first line, located along the Jomtien beach road, where the main hotels are located and a large number of guesthouses (mini hotels); and, accordingly, the second line - the whole area along and behind the Jomtien second road.
Here, from our point of view, most of the interesting projects in this area are located on. Doesn't Jomtien, Pattaya sounds good enough, the place you can rent any type of condo for any period?

Jomtien condominiums market mostly comprised of high-rise projects and so-called resort-class projects - several low-rise buildings with a developed infrastructure inside: a large swimming pool, a gym, a children's playground, and quite often a shop and a cafe/restaurant.
Many high-rise condominiums have already become "super-secondary", but not because of a bad condition, but because of in operation period. Jomtien is the second district after the downtown and North Pattaya, the got into a sight of both Thai and foreign developers. Most high-rise projects are 10-15 years in operation.

The apartments in older Jomtien condominiums are mostly large and spacious, therefore can be quite expensive. Condominiums are kept in good condition, the co-owners, mostly foreigners, regularly pay common fees, which is the guarantee of good service and appropriate pricing. Although there are budget options in high-rise buildings - the main modifiers of the price, in this case, are the distance to the sea and the density of buildings nearby.

Resort type projects began to seize the market about 7-9 years ago and became very popular among tenants who prefer Jomtien. The cost of land on the second line allows developers to build large, interesting and thoughtful projects with excellent facilities inside, which high-rise buildings cannot place on their area.
However, there is a big difference in the living area of apartments: in most high-rise projects, the area of studios starts from 38-40 sq.m., while in resort class projects the maximum living area of 1-bedroom apartments usually reaches 36-38 sq.m.

Jomtien features:
Long and well-maintained beach strip
Developed infrastructure, especially on a first line: 7/11 and Family Mart 24 hrs stores, restaurants, cafes, two night markets
Absence of overdriven nightlife, except the beginning of Jomtien, unlike the downtown
Easy transportation link with downtown, if rent condo on a first line or between first and second lines
Rent condo on Pratumnak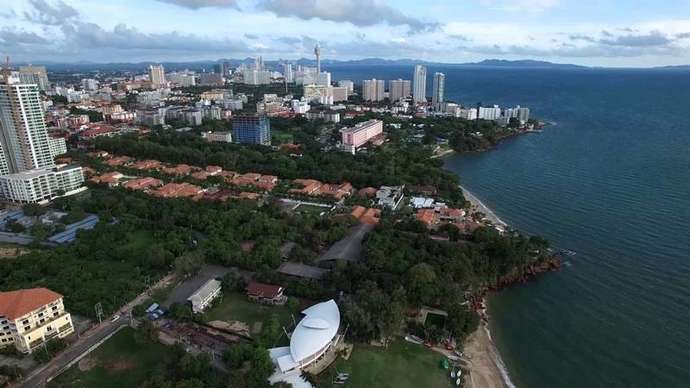 Pratamnak Hill is probably the most European district in Pattaya since most European tourists prefer to rent property exactly here, not wishing to be in the midst of downtown after the sunset. Accordingly, almost all the infrastructure is aimed at a calm and tranquil leisure with European bars, pubs, and restaurants.
Pratumnak can be divided into two parts: the main one (soi 3-6) and "Cozy Beach" district. The Dong Tang beach, which in our opinion is one of the best in town, located exactly along the main Pratumnak hill area.
Cozy Beach area has its own self-titled beach, which is not likely to please beach holiday fans, although you can hire a speedboat to get you to the famous Koh Lan island. You can overview beautiful sunsets from the site, located on the beach. Therefore, if your goal is to rent a condo for a month in Pattaya, you can rent any kind of unit right here.

The Pratumnak condominiums are mainly comprised of the small low-rise condominiums, eight floors max, as there is a ban on high-rise construction (this area is also the residence of the princess of Thailand).
This prohibition does not apply to the Cozy Beach area though and there are several high-rise condominiums with truly beautiful views of the bay and nearby islands.
House villages are nearly absent on Pratumnak Hill, as the cost of land in this area does not give developers the opportunity to turn around on a grand scale.

Pratumnak hill features:
Western-oriented infrastructure

A small district without high-density construction, tranquil atmosphere and at the same time almost walking proximity to the downtown and Bali Hai Pier, from where you can get on a ferry to the Koh Larn island (5-7 minutes drive)

No "walking street" type of bars, which makes this area suitable for the family living or family holiday
Rent condo in Central Pattaya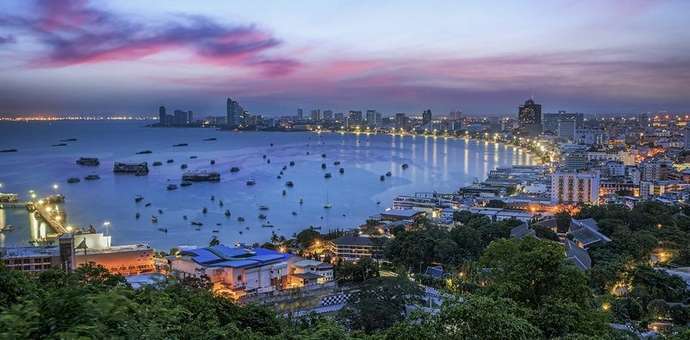 Central Pattaya is the district with everything that Pattaya is famous for: wide streets with bars and massage parlors along them, pubs and restaurants, clubs, souvenir shops and large shopping malls. International hotel chains are adjacent here to the small guesthouses. And of course one of the Pattaya main attractions - Walking Street. Such a contrast cannot be unattractive.

The Central Pattaya beach is quite specific. The beach itself is 4 km long (there is enough space for everyone), but the water does not cause enthusiasm for the beach leisure fans. The Central beach, however, is famous for its additional tourist services such as water sea jets, "bananas", water skiing, etc.
The downtown is perhaps ideal if you want to plunge into the life of a big resort town, especially at night. The only thing you need to consider is what your budget is.

Condominiums in Central Pattaya for the most part located along or next to Pattaya second road. In general, these are high-rise projects, but there are some exceptions of a small number of resort type projects. The main factor influencing the price is the distance to the beach, building in operation period and the quality of the facilities.
Of course, there are also budgetary projects in this area, but such rentals will not suit everyone. The condos are already in operation for many years, the atmosphere inside the condominiums area is rather peculiar - not everyone wants to be surrounded by elderly foreigners who spend days drinking beer in bars right on the territory of the condominium.
Although, if you are limited in the budget and you will be interested in talking to people of different nationalities - then the choice is obvious.

Central Pattaya features:
District with the most developed infrastructure in the town

The highest density possible of any kind of entertainment facilities, which might beat any possible imaginable limits

The only place in Pattaya suitable for the quality shopping, with few big shopping malls
Rent condo in North Pattaya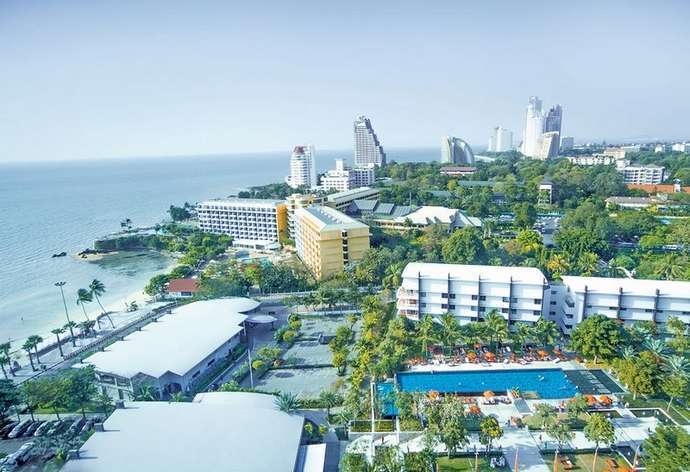 North Pattaya is considered to be part of the city, located at the beginning of Pattaya beach road, where dolphins fountain is located, including the entire area located to the north.
The main road that passes here is called Naklua (Naklua), the streets (soi), respectively, are numbered from 24 to 1.

The local beach is called Wongamat. Beach quality is better than on the central beach, but not better than the Jomtien beach and Pratamnak beach, in our opinion.
North Pattaya, in terms of rentals, offers interesting options only in the western part of the district along the Naklua road, from soi 18 to 12.

North Pattaya is mostly comprised of high-rise condominiums, located on the beach front line. It should be noted that the rental price in these condominiums is quite high - neighboring large and expensive hotels plays its role.
If we consider the second line, then here you can find several resort-type projects, as in Jomtien.
So, the apartments vary greatly in type, depending on the location and age of the building: large apartments at beachfront, in trusted projects; and cozy apartments with a smaller living area in the resort class projects or new high-rise buildings.

North Pattaya is probably ideal if you want to rent a beachfront condo. All the necessary infrastructure is at your service: shops, restaurants, cafes, etc.
This option is ideal if you do not plan to visit downtown daily, considering that in the very beginning of the North there is already a new Central Festival, called Central Marina.
And, perhaps, only in North Pattaya you have the opportunity to rent a large and expensive condo in a building with ABSOLUTE direct access to the beach. Renting a condo in Pattaya in this district for a month is a good choice.

North Pattaya features:
Developed infrastructure and nearly absence of Pattaya typical entertainment facilities in the main part of the district

Quite dense, but beautiful developments, which will appeal to fans of the areas with a lot of high-rise condos

Easy

access

to

the

downtown