Rent condo on Jomtien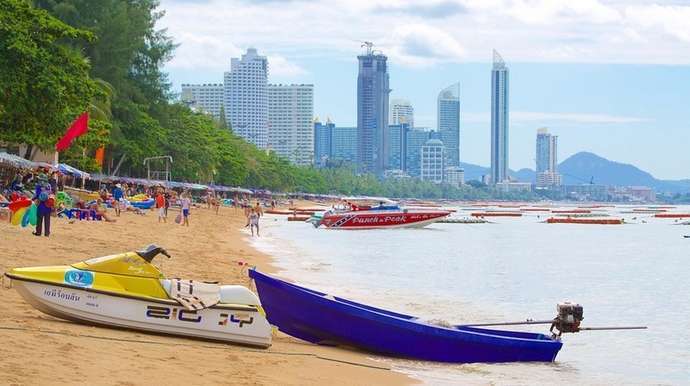 Jomtien is a great choice if you are looking for the condo in Pattaya. Here you can find different rental options for any preferences and budget.
Spacious studios on the high floor with sea view, or cozy 1-bedroom apartments with view on themed swimming pool right on the condominium area, or budget apartments in older condominiums.

Second Jomtien feature is location: unlike fussy downtown, here you can find a tranquil place for your holiday leisure with all necessary infrastructure nearby, and still get into any point in town due to the proximity of public transport.
Let us take a look at the most interesting rental options in Jomtien.
High-rise beachfront condominiums in Jomtien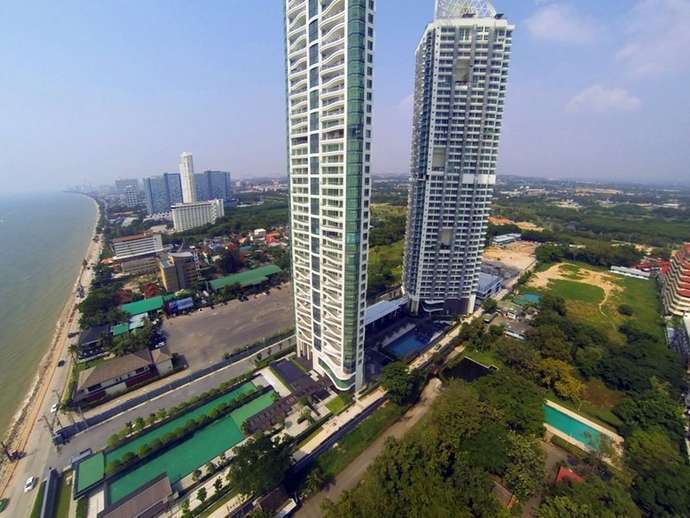 Mainly all high-rise projects are located in the very beginning of Jomtien, and few after the intersection of Jomtien beach rd. and Chayapreuk rd.

Most of the high-rise condominiums on Jomtien market have solid in operation period and yet good maintenance quality. It's very convenient place if you are looking for the quality rentals in Jomtien.

Such condominiums have a big swimming pool and well-developed infrastructure right in the condo since usually ground floor has many commercial areas, where you can find small shops, cafes, and laundries.
Newer high-rise condos don't have commercial areas, but instead, they got fitness and lounge zone on the high floor.
Jomtien high-rise condominium features
Walking proximity to the beach in the most condos

Well-developed infrastructure and facilities right on the condo area

Spacious apartments

Great

rental

options

with

breathtaking

sea

view
Best high-rise condominiums on Jomtien
View Talay 5


One of the best projects in the beginning of Jomtien. Direct beach access, big condominium area, lot of cafes and shops right on the condo's ground floor, spacious apartments (studios with living space of 48 sq.m.)




View Talay 7


High-rise project in the beginning of Jomtien with direct beach access, spacious apartments and own infrastructure on the ground floor




View Talay 2


Twin condo of View Talay 5, located on the second line but within just 5 minutes' walk from the beach. Spacious apartments with bit cheaper price than in other two mentioned projects and well-developed infrastructure right in the condo area.




Jomtien resort type projects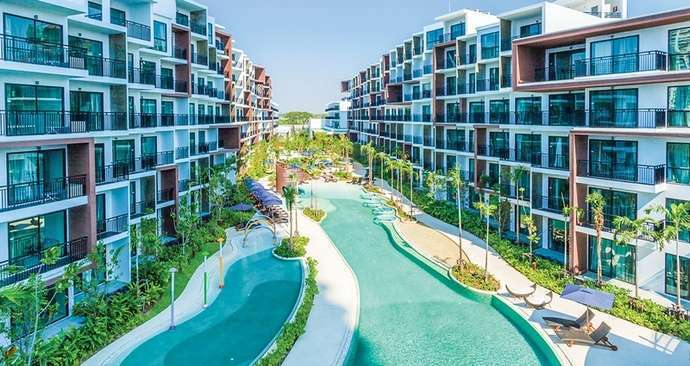 If you are looking for the best family condo rentals in Jomtien then you definitely should pay attention to the resort type projects.
All resort type condominiums on Jomtien are located along or behind the Jomtien second rd. Despite the distance to the beach, which can be 1 km for some condos, they are still very popular among the rental seekers with small children.

Few low-rise buildings with a big common area, featuring swimming pool, water slides, and fitness make these condominiums especially attractive.
Mostly all apartments in such condominiums are 1-bedroom with living space around 36 sq.m.
Many projects are not in operation for a long time, they look fresh and tidy inside, usually, condominium management provides shuttle bus service for the residents.

Keep in mind that if you are looking to visit Thailand with pets, then the condo is not an option. In this case pay attention to house rentals in Pattaya.
Jomtien resort type condominiums features
Distance to the beach is not a problem if you feel fine to walk 10-15 minutes or rent a vehicle

Big swimming pool is the guarantee of enough space for everyone to enjoy their leisure

Cozy apartments with living room and bedroom. In case there is a sofa-bed in the living room then there are no worries with the sleeping area for the child
Best resort type condominiums in Jomtien
Paradise Park
One of the first resort type condominiums in Pattaya. Following project can be truly called classic in terms of resort type condos: 3 buildings, very big swimming pool, fitness, and restaurant right in the condo area.
24 hrs shops, bars, cafes are within just 5 minutes walk. 1 km to the beach. If you like Jomtien rentals you definitely should pay attention to this project.


Amazon
New resort type condo located nearby Paradise Park. The green area inside looks truly amazing and reminds the lush tropical jungles.
Besides big swimming pool and fitness you can also find the artificial waterfall, which is very popular among the kids.

1,3

km

to

the beach.




Atlantis
Themed resort type condominium: Poseidon statue greets you on the entrance, inside the condo common area you can find true scale ship with fitness on the deck and cafe in the hold.
Atlantis has one of the biggest swimming pools in Pattaya. Apartments with pool view are especially popular in this project since common area look good and well decorated. 600 m to the beach and bit higher price than in other similar projects.


Jomtien budget condominiums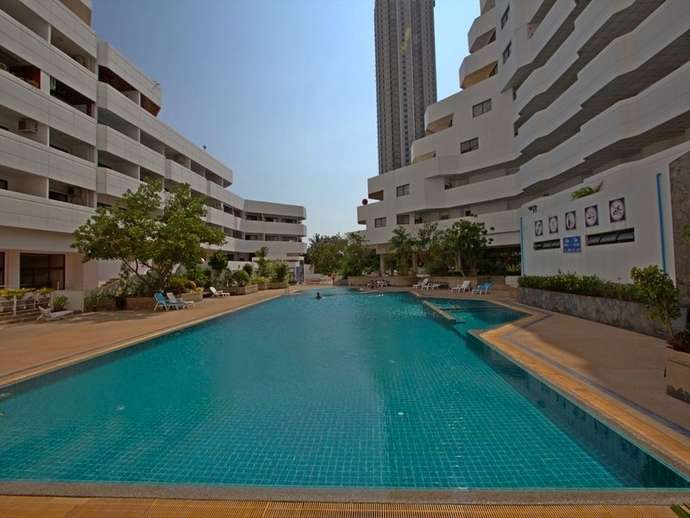 If you are looking for the comfortable and budget options to spend the holiday then Jomtien has rentals to offer.
The main difference between budget condos and others again are exteriors and interiors.

It does not mean that budget condos look really bad. From the very beginning, they were aiming the certain segment of buyers, and accordingly, it represents the condos facilities, common area, and apartments' interiors.
Therefore, you will not find some extra details like big swimming pools or water slides in such projects.

If those details are not important for you and you are simply looking for the budget rentals, then pay attention to these options.
You still can fully enjoy your leisure while saving an extra buck for the different things.
Jomtien budget condominiums features
Average distance to the sea for the most condos of this type; some condos have cafes and shops on the condo area

Here you can rent spacious and affordable apartments. Great option for the budget rentals in Pattaya.
Best budget condominiums in Pattaya
Condo for rent in Jomtien