Phuket Holiday Services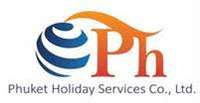 Phuket Holiday Services Co. Ltd. (PHS Property), represents the sales department of the Pisona Group holding, a company with one of the largest volumes of real estate development in the South of Thailand. PHS Property can rightfully be called the leader in the field of the providing construction and investment services in Phuket, having more than 15 years of experience in investment, construction, and tourism business.
PHS Property also provides consulting services to the property owners, investors, and tenants regarding all real estate market aspects.
PHS Property services include legal advice, support, full support for the purchase and long-term lease, management and maintenance of completed objects, bank loans, property valuation, as well as construction services, investment management, various types of marketing research of the real estate market.
At the moment Pisona Group employs 3000 people. The company's gross turnover in 2016 amounted to 1 billion baht.
PHS Property offers 8 projects with excellent location, high-quality architectural and interiors with reasonable prices and attractive investment options: Patong Bay Hill Resort, Patong Bay Sea View Cottages, Patong Bay Residence, Patong Bay Residence Phase 2, The Bay and Beach Club, Kata Ocean View Residence and Naka Bay Condominium and Cottages.
Below you can find more information about each company's project.
Developer "Phuket Holiday Services" projects