Owner treatment to the further customers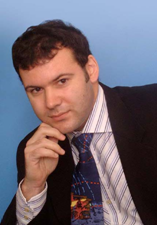 Good time of day everyone, I'm very glad to see you on our website. I hope I will meet you soon and I can sincerely shake your hand.
First of all, I would like to give you a short piece of information about «Gol.Den Group», so it can help you to recognize who we are and what we're doing.
«Gol.Den Group» starts from 1998, when, because of consequences of the global economic crisis, my computer business stuck, and I received a delightful invitation, from famous Pattaya touristic company, "to uprise realty business in Thailand".
"Why not, - I thought. - I've got nothing to lose here, and it's Asia there, sun and ocean". So I took my family and leave for.
Unfortunately, I had to come up with the fact, that we have different ways to do business. My companions didn't care about long-term business planning. They were interested only in rapid incomes and the crowd of customers.
That's why I decided to run my own company, which will follow my business principles:
Straight dealing with the customers
The margin of safety of the deal
Full customer awareness about property characteristics and features.
Pressing inadmissibility to the customers or motivation to commit the deal.
Providing a wide range of additional services, such as transport rent and juristic consultation.
I provide the principle of «personal broker», so we work personally with each customer. Of course, the company stands behind its broker, and he uses all the company's potential to provide the best customer service. But the broker is also personally responsible for each of his customers.
As your personal broker, I or other employees of my company, by its own signature will approve all the documents and arrangements, which you will make while working with real estate objects.
Respectively we will not give you to sign, or sign by ourselves, any document or arrangement, which you will not fully understand, or its conditions will infringe your interests.
Honest to say, that this practice brings positive results. Nowadays most of our customers are friends or fellows, of those, who used our service and recommended me as an honest and responsible broker.
My company politic is quite simple. I run a company, which provides quality sales and real estate management services. I have those, whom I can give this business by inheritance, that's why I treasure my name and reputation.
So, if you think about purchasing real estate in Thailand - feel free to call or mail us. Don't be ashamed to ask any questions. We will be glad to help you.
Kind regards
Denis Golubov