Treatment plant expansion seen as key to reversing Pattaya's worsening water quality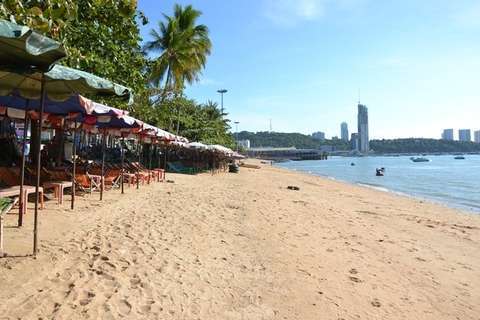 Expansion of two sewage-treatment plants and better connections to the city's main flood-drainage system would go a long way toward reversing Pattaya's declining water quality, local environmental officials said.
Acting Mayor Chanatpong Sriviset chaired a June 20 meeting with pollution-control agencies and the Chon­buri Environment Department to draft a water-quality master plan for 2017-2021.
A recent Marine Water Quality Index survey of five eastern provinces found that seawater in Chonburi – particularly Pattaya Bay and Laem Chabang – badly trailed nearly 60 other locations in Rayong, Chachoengsao, Trat and Chantaburi provinces.
Those areas tested better than 75 percent healthy, while Pattaya's water quality dropped from the last MWQI, said Thanapong Rattanawuthinan, director of strategy for the Chonburi Office of Natural Resources and Environment.
Jomtien, South Pattaya, North Pattaya and Koh Larn are still considered safe, he said, but the decline in quality is worrying and worsening.
The main problem, the meeting was told, is the flow of sewage and garbage into the sea as a result of repeated flooding in Pattaya. Authorities are looking into the wastewater system and will have to find other alternatives, like expanding the two existing treatment plants, Chanatpong said.
The trash issues, he added, are also being looked into and authorities are planning to create a new dumpsite near Khao Maikaew, where angry residents previously closed a city dump.
Pattaya's main wastewater-treatment plant is on Soi Nongyai, which can process up to 80,000 cu. meters daily. A proposed second phase would bring total capacity up to 130,000 cu. meters a day and currently is undergoing environmental assessment.
A second plant serving the Jomtien Beach area is located on Soi Wat Boonkan­chanaram and receives about 20,000 cu. meters of water a day, but has the capacity to handle 63,000 cu. meters daily.
The unused capacity prompted comments from meeting attendees that the city's drainage tunnels need to be expanded to better handle storm runoff and more connections to private streets and hotels are needed. Now many places in the city are not connected to the main sewer system and send untreated waste into the sea.
Sanitation Department Director Wirath Jirasripaiboon said the city's treatment plants function perfectly, but the problem is that the massive amount of storm runoff often pushes the existing plants 10-20 percent overcapacity. When that happens, the excess goes right into the ocean.
The water quality problem is exacerbated by the fact that much of the storm runoff comes from areas outside Pattaya – such as Huay Yai and Nong Pla Lai – which lack any type of sewage and wastewater treatment, he said.