Railway Link on Track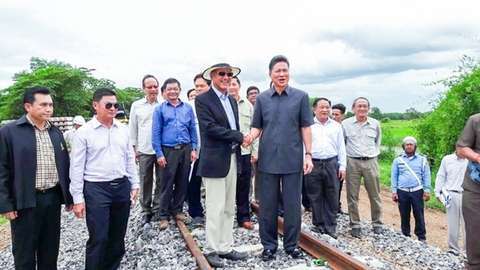 Cambodia is committed to complete construction of the 6.5-kilometer cross-border railway linking Poipet city in Banteay Meanchey province to neighboring Thailand's Sa Keo province by the year's end.
Minister of Public Works and Transport Sun Chanthol gave the assurance on Sunday when he inspected the construction site in Poipet's Stung Bot district where the railway tracks from Cambodia and Thailand will meet. The 6.5-kilometer railway line is funded by the Asian Development Bank.
"We plan to complete this project by the end of the year and as planned it could be finished by either October or November," said Mr. Chanthol.
According to the minister the deadline for the project was set in a 2015 meeting between Prime Minister Hun Sen and his Thai counterpart Prayut Chan-o-cha in efforts to boost bilateral trade to at least $15 billion by 2020.
According to the Thai Embassy in Phnom Penh, in 2015 about 70 percent of products imported from Thailand to Cambodia passed through Poi Pet's international customs gate at the border crossing in Banteay Meanchey province.
On the Thai side, the State Railway of Thailand is refurbishing the track from Aranyaprathet station in Sa Keo province to the border at Ban Khlong Luek, which is opposite Poipet.
Mr. Chanthol was accompanied by Nuttavudh Photisaro, the Thai ambassador to Cambodia in his visit to the Poipet ‒ Sisophon railway construction site.
The minister said the rail link between the two countries will be good for tourism.
"After we link [railway], tourists can travel from Singapore to Malaysia, then to Thailand, and finally to Cambodia," said Mr. Chanthol.
The railway track between Poipet and Sisophon is part of the eastern corridor of the rail link between Singapore and China's Kunming province that will connect the whole of Asean.