Military, local officials study feasibility of cross gulf ferry service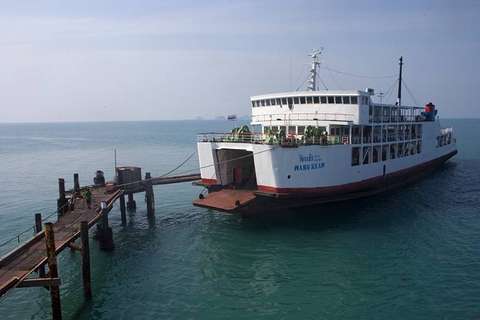 Military officials surveyed Bali Hai Pier as part of feasibility study for ferry services between Pattaya, Cha-am and Hua Hin, finding both the jetty and harbor in need of improvements.
ACM Wijit Jitpakdee, chief of economic cooperation for the National Council for Peace and Order, led the delegation of junta and local officials to the South Pattaya pier June 19 for a survey of its suitability as the eastern base for the 4-billion-baht ferry project.
The NCPO ordered the Marine Department in April to have its 30-million-baht feasibility study complete by the middle of 2016 with hopes of having the cross-gulf ferry go into operation by 2019.
Military and government officials are assembling a feasibility study to determine whether Bali Hai Pier would be a suitable eastern base for a cross-gulf ferry service.Military and government officials are assembling a feasibility study to determine whether Bali Hai Pier would be a suitable eastern base for a cross-gulf ferry service.
The project is aimed at boosting tourism, the economy and trade between the two coastal areas and shorten travel time to three hours from the current six or seven.
Bali Hai is one of five piers being considered for the eastern terminus of the ferry service, along with Ocean Marina in Sattahip's Najomtien Sub-district, the Royal Thai Navy's Juksamet Pier in Sattahip, Laem Chabang Port and Koh Loy Pier in Sriracha.
Transport Minister Prajin Junthong said in April that Bali Hai, Ocean Marina and Laem Chabang were considered the most-suitable locations.
Wijit was told, however, that Bali Hai would need upgrades before it could be used for a commercial ferry operation envisioned to handle at least three million passengers and 220,000 vehicles per year.
During his presentation, Pattaya Mayor Itthiphol Kunplome told the air chief marshal that the pier, which went into service about a decade ago, is in need of repairs, particularly its dilapidated bridge. The city has requested a budget of 55 million baht for maintenance, he noted.
More significantly, water in the harbor is only two meters at its deepest, while a ferry would require three meters of water. Thus, significant dredging would be required, he said.
Finally, the mayor said, Bali Hai needs additional parking and transportation links to the main arteries into the city.
Construction on Bali Hai began in 2002 with a 238 million baht budget to replace the single-dock wooden pier near the mouth of Walking Street built by the U.S. military during the Vietnam War. The mammoth concrete pier is 800 meters long and covers an area of 5,528 sq. meters. It serves 80,000 travelers per month.
ACM Viroj Nissayan, advisor to the deputy chairman of the NCPO, said the junta has been interested in this project as one of the ways to support the economy and develop transportation linking the western and eastern coastal regions.
However, he said, the operation must proceed carefully and suitably in the areas of budget and benefits.
The military officials planned to take all the data from their survey and the city presentation and present it to the NCPO and Marine Department to incorporate into the feasibility study on June 24.
Prajin said in April that the first two years of the project's development, running through 2018, would see investment mostly in acquiring or building ferries, terminals and docks.
Siam Eastern Logistics Terminal Co. earlier proposed a four-year investment plan, starting next year, which the government is considering.
Initial specifications call for ferries to be 250-ton catamarans able to carry 280 passengers and more than 30 vehicles. It would travel at 18 knots.
The trip to Hua Hin would be cut from the 6-7 hours needed to travel 345 kilometers by road to 2.5-3 hours over 105 km by sea. It is estimated the ferry would generate four billion baht in revenue a year.
Deputy Mayor Ronakit Ekasingh said Pattaya considers it a good opportunity that creates value for the economy and tourism industry.