Pattaya taxi was ordered to halt justice by themselves against Uber drivers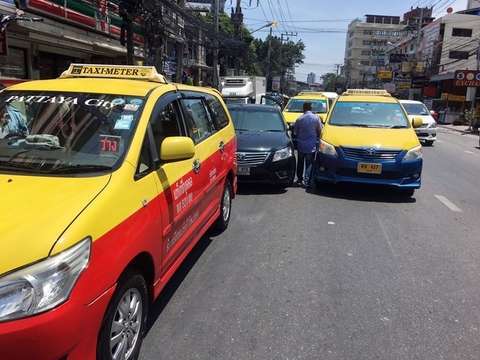 Pattaya taxis were informed that illegal actions toward Uber drivers would be prosecuted according to the law, including jail if they continue to confront share-riding service on their own.

The warning was announced after two more incidents with the taxi who decided to take justice in their hands had occurred, which can be simply explained by the fact that Uber ride-sharing service with its solid rates is becoming a serious competitor to the taxi's overcharge skills.

On 4th of May swarm of 20 taxi drivers surrounded and forced to stop Supannee Thampitak, after she has picked her Chinese customers near Central Marina shopping mall.

Taxis accused her of being Uber driver but ended up red-faced after the police have arrived and confirmed that Supannee is a real estate agent and Chinese were her customer.

The second case became viral after the video in which taxi was threatening to shoot Uber driver in case he picks up another passenger near Sanctuary temple been posted to the social medias.

We've already been talking about the case that took place on 25th April, when taxis and police have taken care of Uber X driver on Mitsubishi Pajero. The driver was fined 2,000 Baht.

Pattaya police chief Apichai Kroppech called real estate agent misunderstanding.

Pattaya top cop also said that such behavior by taxi drivers would be prosecuted if they continue to practice lynching toward the Uber drivers. In all cases, the authorities must be called to take legal actions.

Thai social medias inform that Anan Pheuakwattana, the president of Loma taxi cooperative, where 20 taxis belong, apologized and noticed that recent actions were caused by the initiative of the very minority of the Loma membership.

Atthakarn Theerawit, a driver of Loma cooperative, moaned that Uber causes many problems for the taxi drivers who spend 900,000 Baht on their vehicles, while Uber drivers need only auto and insurance.

Pinit Maneerat said that taxis would be invited to the meeting where they would be informed of how local police and city authorities together with Transport Department will stamp out Uber from Pattaya.