UBER and Pattaya taxi clash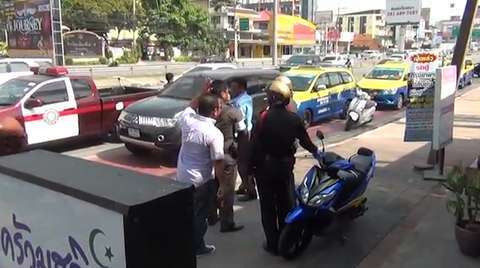 Apperently local Pattaya taxi decided to take a serious action toward UBER drivers, taking police on their side.

The following case happened 25th April, when local taxi had informed police about suspicious driver who was probably connected to UBER X, driving black Pajero. Driver picked up two Chinese tourists in downtown and the headed toward North Pattaya.
According to police the driver was trying to "sneak away" but in the end was surrouned and was forced to stop at soi Photisan.
Driver explained that he picked up two women and was bout to bring them to the elephant farm, after he was hailed via smartphone app.
On the contrary local taxi driver exclaimed that he was cut up through the activity of UBER driver and decided to take the judgement in his own hands by calling authorities and following the violator.
Police had fined UBER driver 2,000 baht for violating the Motor Vehicle act, which doesn't prescribe Pajero as vehicle for providing the taxi service.
Little bit of backstory
Uber and few other apps for the ride sharing service had come to Thailand in February, much to the relief of locals and exptas, tired of taxi pricing lawlessness.

In March taxi drivers announced that if they work with accordance to the Vehicle Department rates the will hardly make enough money for a living. Probably that's the main reason they often overcharge customers up to 300% from the abovementioned rates.
For example, Pattaya taxi will charge you 300 baht fro the trip from Central Festival to South Bus Station, while Uber services will cost only 115 baht.

Technically UBER X is still illegal in Thailand and drivers are at risk to face big penalties. Despite of this the enforcement is minimal, and the only drivers caught are ones who advertise their "illegal" activity.